Friday, February 8th, 2013
I'm a cyclist.
But that doesn't mean I cycle everywhere, all the time, I take the train, I take buses, I take trams and quite frequently I take taxis.
Taxis and cyclists don't always get on, this doesn't have to be: I take taxis a lot more often than if I owned a car.
The boss of London Minicab firm Addison Lee, sadly unaware of this clear relationship when he laid into cyclists in the capital last year, with a raft of stupid comments, which made me uncomfortable giving my money to his company, given the choice.
I'm no militant cyclist. I ride a 3 speed ladies bike. I stop at traffic lights. My dynamo lights work. I use arm signal when changing my position in the road. I acknowledge and thank careful drivers and drivers who let me out.
Cyclists and Taxis will always co-exist. Indeed, Cyclists will often be a taxi-drivers best customer.
So the question is this:
Is there a business opportunity for a taxi company to declare itself to be a special cyclist friendly taxi company? Clearly, Greater London is not a very competitive market, but Manchester on the other hand, has a large number of firms, all vying for position.
Could 2013 see one of them positioning themselves as the go-to firm for cyclists?
Sunday, February 3rd, 2013
When I work from home, I usually work with my curtains closed, partly because of prying eyes in the street, and partly because the extra light makes the screen hard to read.
Yesterday, I saw, through a gap, a glimmer than suggested I should have a quick look.
I didn't regret it:
Friday, February 1st, 2013
Since reading my friend Dan's travel blog of his exciting day in South Africa where he talked/sneaked himself out of two muggings in a day, I've given some thought to how I'd try to handle these kind of situations.
What happened
A few months ago, as I was cycling into town after work, I was stopped at the top of an isolated pedestrian bridge by 4 induviduals on bikes and was told in no uncertain terms that I was being mugged. As one of them tried to reach into one of my pockets contains a phone, I held onto it, which brought a few punches flying in the direction of my head. Deciding at this point, that I didn't really fancy parting company with the contents of my pockets (phone and wallet), I pushed my bike towards them (step-through frames allow for easy dismounting!) and sprinted back in the direction I'd come. After hearing someone say "after him", I decided that now might be a really good time to start loudly and choosing the most appropriate word I could think of, I started shouting "help" and by the time I reached the original end of the bridge, I was met by a member of the public who called the police.
Since then, I've spent at least 6 hours of my life giving statements and doing identifits etc. for an incident that, at most, lasted 30 seconds.
Reflections
Considering that:
I wasn't seriously hurt (there were two minor and inconspicuous bruises)
I wasn't seriously missing anything (though I lost my glasses in the affray)
I think it's fair to say that it went "about as well as an attempted mugging could go". I didn't lose anything to the robber and I wasn't seriously hurt.
I've thought long about this. Could I have avoided any issues with them simply by dressing and acting differently? Could I have avoided any physical confrontation if I'd handed stuff over straight away? Could I have done things differently?
Ultimately, these questions will drive you crazy – the answer is "yes, probably", but the fact is 'shit happened' and thankfully I came out of it pretty well this time, so that's what I should focus on.
Immediately after the incident I was quite nervous, however, I'm very eager to avoid is demonising groups of people – young people growing up in the inner city are generally great people, and, in my opinion, more work needs to be done to help organisations like RECLAIM help empower young people in these areas.
Reactions
The most interesting thing about the incident now, is actually observations of how people's reactions to the incident subsequently affected me and the impact that had.
The most prominent reaction has been a statement or something like "hope you're ok", which whilst being the easiest, and probably least likely to upset, response, is quite passive.
Interestingly, for me, the worst thing that happened was being asked "What happened?", and forcing me to recount the details of the incident in detail. It's not that it was particularly traumatising, but reliving the incident each time I was asked doesn't really help put the incident into the larger perspective, both for me and the person I was telling it to.
Perhaps one of the less helpful responses was suggestions that I could have been stabbed and being told that I should have just handed over my phone. Whilst there's certainly truth in that, it's a really unhelpful perspective to suggest to the victim at that point. Clearly there were worse possible outcomes, however, with the bigger picture, the given response resulted in about as good as one could hope, with an actual guarantee that the suggested response would result in am objectively worse outcome (with still no guarantee it wouldn't involve stabbing) than what actually happened.
One possibly interesting reaction was being told that they know how I felt, and that anger that comes afterwards is worse than the event – probably an incredibly clear indicator of how clearly personal people's reactions to events like this are – I suspect they did not know how I felt, as the anger wasn't forthcoming…
One reaction was to simply label the perpetrators as "manchester dickheads" – possibly objectively true – but still unhelpful, rather pointless name-calling – "Ahah, you almost mugged me. You're a dickhead! Oooh. I said a naughty word!".
I've had people say that they hope this won't change my approach to the world – and for me this was the most well-received response – mainly I suspect – because I'd already decided that this had to be the case, within 10 minutes of the incident.
In my opinion, perhaps, the most empathetic response is to ask how the victim is feeling, then be quiet and let them do the talking.
Final Thoughts
In many ways, however, I suspect that despite people meaning well, I might actually have been happier to not publicise it so much. This may be partly related to my distaste for verbally repeating anecdotes a number of times, but I suspect is also to do with coming to terms with things actually being quite a personal thing, and whilst other people's perspectives are obviously helpful to themselves, I can find them, at best, hard to relate to, and at worst, somewhat unhelpful.
I was a bit shaken for a while (aka an evening) after the incident, and there's still the odd flashback or moment where I feel irrationally unsafe, but I'd had enough of talking about it within hours of it happening.
I'm "over" the incident - shit's gonna happen, in the past and the future, it's not surprising really, and I'm happy it went as best it could this time.
I'd really like to look forward in life for a while now.
Sunday, March 4th, 2012
You can sponsor my efforts here on mydonate and let mySociety know how much you appreciate them!
The Bogle Ramble was an interesting challenge: throughout the day I made a video blog, capturing my thoughts, messages of thanks to my sponsors and other notable moments.
Playlist: Bogle Ramble 2012
The Eighty Three Bus,
Overtakes me once again,
please let me ride you!
After we started, there was this guy who seemed intent on running it, but didn't know his way to Oldham Road through the centre, so I jogged with him across the city centre to Oldham Road where I let him move onwards at an incredible pace, whilst I resumed walking to catch my breath. From there until Failsworth (Checkpoint 6), I only encountered one other Bogler – a lady who had also been jogging a fair bit.
Walking and jogging…
Staple bogle essentials.
Checkpoint seven soon!
On the stint between Checkpoint 6 and Checkpoint 7 I overtook a good number of clearly exhausted Bogle Strollers. One lot seemed to be limping so badly I jogged across the road and gave them a bunch of chocolate bars from my bag; their eyes showed their appreciation which they didn't seem to be able to find words to express.
After Checkpoint 7, I noticed a lot more Bogle Strollers, many sitting on walls, comforting friends… or just plodding along. I'd been told that between Checkpoint 7 and 8 there were some hiking club strollers which I really wanted to catch up with. Once I reached "checkpoint" 7.5, I met up with them and found they'd dropped out. After stopping for a brief chat, my first snack and a friendly face, I headed on for Checkpoint 8 at Kearsley.
Shortly before Checkpoint 8, it started raining, which, given I hadn't brought waterproof trousers with me, was unwanted, and quite depressing. Ultimately though, the rain broke away to sun and there was a DOUBLE RAINBOW.
Sunshine through the rain,
an inspiring sight to see,
a rainbow of hope.
From there on, I started to really notice that I was no longer up to short periods of jogging downhill and was it was beginning to lose it's edge. I was largely walking following the signs the Bogle team had put up on lampposts and occasionally falling back to my map/route instructions for the bigger picture. Somehow however, I managed to completely walk past Checkpoint 9. From then onwards, then on, I suspect my average speed dropped quite a bit. I started to find people overtaking me, rather than the other way round. As I walked through Salford, I started to notice bunches of youths apparently eyeing me up and so I pressed on to checkpoint 10, just 2.5 miles from the finish line, and then onwards towards the finish.
The Bogle tired me in ways I hadn't previously anticipated. I knew it would be a physically tiring time. I knew I'd have to tell myself just to keep going and that I was going to finish it. I didn't expect the fatigue and stress of the previous few weeks to be brought close to the surface due to Bogle fatigue and for me to feel like I inexplicably was going to burst into tears. This, I was completely unprepared for.
I finished The Bogle at 17:57. About 8 hours, 37 minutes, 26 miles after I started – an average speed of about 3mph. There were no blisters or other injuries.
You can still sponsor me here!
Friday, March 5th, 2010
Not so long ago I put together this short video of people windsurfing on a windy day at Glossop Sailing Club.
Windsurfing at Glossop Sailing Club
What do you think of it?
It's pretty much my first ever watersports video that I've spent any time editing and I know I've still got a lot to learn…
How would you improve it?
If you think you know an answer, please leave a comment.
---
The music comes courtesy of
Red Light Rippers
, with their song
"Addicted".
Filmed on a Sanyo Xacti WH1 and edited solely with KdenLive

---
All content licenced under:
Creative Commons Attribution-NonCommercial-ShareAlike 3.0
Wednesday, January 13th, 2010
As I now live in the centre of Manchester, and being cooped up in a flat is certainly not enjoyable for a dog, Bess, our well loved Staffordshire Bull Terrier currently lives at home with my parents.
As my father is usually at work all day, usually it falls to my mother to walk her.
Recently they had an incident that was a very close call, so I asked her if she'd be willing to write an account of it for my blog.
Here it is.
When you've read it, please consider leaving a comment.
---
My mother writes:
As some of you know…
I was 60 years, 11 months and 27 days old last Thursday 7th January 2010. I was a fit, outdoor and morris dancing grandmother. I still am, but I'm different, too!
At that time, probably 9 inches of snow had fallen, but with drifted snow from the barren moors of Bleaklow, in Old Glossop we were now under a foot or more of snow. We had spent the previous two days ~ first, 'holed up' in the house; and then, next digging ourselves out. So Bess, our 8 year old brindled 'Staffie', had had make do with walks in Manor Park, and up the Doctor's Gate track to the sledging fields of Mossy Lea.
Thus on the third day of the Snow, I decided it was time for a bit of outdoors, with a proper walk for Bess. Bess loves snow and goes quite loopy in it (she was a 3 month old puppy the first time she encountered it, and it seems to trigger in her memories and behaviour of that age), even now. At least to start with.
So I decided on our 'usual' ~ up the Cock Hill track, diagonally across the Lower Blake Moor to the far gate, round the end of the Lower Shelter Belt, then back across Middle Blake Moor to the Cock Hill track again, and back down Charles Lane. Normally it would be a short hour, but given the conditions, I expected a long two hours ~ good for dispersing 'festive fat'!
It was fine up Charles Lane. It was tough but exhilarating up the Cock Hill track. It was…ooooh ..such deep snow ~ thigh deep at the bottom of Blake Moor! I floundered, and Bess sank! She is a very thin, tall, leggy 'Staffie', (she has all the Manchester Terrier part of her breed's heritage). So, though she slices through snow up to 10 inches ~ deeper snow, and she sinks! Did we turn back? No!
I knew the bottom of the Moor would have the deepest drifts, and surely this depth snow meant that the higher part would be pretty well blown clear. I pointed out to Bess that if she accepted my leadership, she could follow with relative ease in the sunken path I cut.
She was the lucky one! It was shattering to be ploughing up the hillside through such snow! And I was wrong, the Moor had not been blown clear. I had to stop every few minutes or so, to recover my breath. Bess did not even bother to suggest that she would take a turn of leading, as she normally would do, she just puffed too. Despite the bitter breeze that blew over the tops from the East, I was sweating, and opened my water/wind-proof jacket, and then my fleece, and till finally I had my scarf round my waist. It was such hard work lifting my knee to hip level to step through the snow.
At last, in the lee of the Shelter Belt (a pine tree plantation) the snow was shallower ~ six inches or so, and Bess was off, following up every scent. There were many small prints ~ hares and rabbits (easy to differentiate), and squirrels in amongst the edge of the pines. And cruising round and about, and in and out of the tufts of moorland grass and rushes, was the predatory track of a stoat.
Bess was in heaven! Here, at last were interesting, new smells ~ not the same, old, predictable messages from same old dogs, in the same old places down in the Village.
However, as we cornered the Shelter Belt, I knew exactly why it is called a 'shelter belt'. The snow was thigh deep again, and the easterly wind was cutting. Bess dropped in behind me again ~ no hesitation. The snowon Middle Moor was waist deep! I floundered up the Moor for about 10 yards and knew, that my energy was definitely finite, and that any attempt to cross Middle Moor back to the Cock Hill track for home, would simply be foolish.
On my left was the gate leading to the track back down into Blackshaw Clough and on to Swineshaw Reservoir. Although the gateway was blocked by a chest high drift, I knew it would be sheltered in the woods beyond and below. I virtually swam through the gateway, and then I gazed appalled at a deep undulating snowfield, 30 yards wide, that lay between us and the wood's shore. Was I up to struggling across such a distance, at such a depth? I really felt daunted!
Bess sorted the problem. She saw against the wall, a narrow channel in the snow (six inches wide), cut by the swirl of the wind as it blew along the side of the wall. We could edge along it, and escape into the wood and its shelter. It was an awful wallowing scramble. I am wider than six inches so I didn't fit the gap too well, even with my ash-stave walking stick to support me, the uneven form of the wall pitched me sideways full length into the snow, again and again. I had to keep reminding myself that it was just a few more yards to shelter and easy walking.
The snow gully ended in one last monster drift, as the wind reached the woods and eddied around dropping its load of snow. It took such an enormous effort to cross it, as I swam, wallowed, floundered and rolled! Nothing I could do made it easier! I wanted to give up! When gasping, snow crystals choking me, I took a 'breather', Bess used me as a spring board to make a final leap out of the drift and into the wood! At last, I too rolled out of the drift, found my feet again and shook myself, so relieved that now the going would be easy!
We swung off down the track though the woods, quickly recovering from our exertions, and exhilarated by the challenges we had faced together. We met Naylor's Galloway/Highland cross-breed herd of cattle sheltering in the woods. I passed them, and in Bess's case stopped to exchange greetings with them. They are familiar with Bess, so she and they spent some time on the various amiable encounters.
Out beyond the woods, Swineshaw Reservoir lay calm and still in the weak winter sunshine of late afternoon, and, as it transpired, the scene of our most frightening and demanding test yet!
Bess went under the gate, and I went over. And indeed, we were back in the world of 'dog walkers' ~ the snow was only nine inches deep, and criss-crossed with human, dog and sledge prints. The Reservoir completely frozen over. That is, except for a small circular patch of clear water (eight foot in diameter), and about ten feet away from the bank ~ where a culverted stream enters the reservoir underwater.
Out on the ice were a few very large black stones embedded in the ice. Clearly they had been taken from the nearby wall, and 'lobbed' out onto the ice, to test its bearing capacity. Also paddling around in the ice hole was a cluster of wild ducks.
Now 'Duck Hunting' is Bess's hobby. In the wild, she is allowed to pit her wits against the ducks' wits ~ in that they have the overalladvantage in being able to fly, and swim. Bess certainly cannot fly,but neither can she swim! So whilst the ducks have all the advantages, Bess gets all the fun of the chase, and she loves the exhilaration!
The ducks here, foolishly left the water of the ice-hole and started waddling about on the ice, looking very, very inept and very, very tempting. Anyone could see that, I didn't have to be a dog to see that!
But, I am 'Boss-Dog', and Bess accepts that, though as 'Second in Command' she is allowed to question my judgement on occasion. I looked her in the eye, said clearly and firmly, "NO", and she understood my strange and mystifying prohibition on these clearly 'wild ducks'. (Park ducks, in any park, are 'verboten', a rule that she enforces herself, and her understanding of what constitutes a 'park' being very precise.)
She looked back to the ducks, then looked back up at my face, querying my decision. Again I told her "No ducks", and she accepted my foolish decision, her eyes and body told me so, and she turned away to investigate other smells.
So, with the duck issue clearly resolved, I turned and strode off along the edge of the Reservoir, keen to do a circuit of it, before the light gave out ~ this walk was taking a lot longer than I had originally planned.
Something ~ something I didn't consciously hear, maybe a splash or a yelp ~ made me turn and look back for Bess.
NIGHTMARE! I see Bess's head sink below the water in the ice-hole!
I start to run, in heavy boots, back through the cut-up calf-deep snow. I've 15 yards to cove. I seem to run so slowly! Bess comes up to the surface, and Bess cannot swim!
Her front paws flail at the ice edge, trying for a grip. The thin ice breaks under paws. She sinks again!
I run. I am getting closer to the bank nearest her. But what will I DO then? We are five minutes from the nearest house, and they are easily 15 minutes from emergency services. Help is not at hand.
(Through my mind runs the level voice (no sympathy, and an attempt at no reproof) of a newscaster reporting that an elderly woman and the family pet dog (both drowned), were pulled from a Pennine reservoir after going missing the day before; they had been discovered by dog walkers!)
Her head surfaces again!
I must encourage her to keep trying, to keep battling against the killing cold water and the awful fear, whilst I try to reach her! If she sinks, I know that, with that ice and cold, there would be nothing I could do. I could not go through and below the ice to save her. I MUST keep her at the surface!
"Good Girl!" I call, warmly ~ putting everything positive into my voice to keep her going.
She looks at me, as flailing still and breaking off more thin ice at the edge of the hole. She sinks again!
And her head surfaces, again!
"Clever Girl" I approve. Her liquid chocolate brown eyes are locked on mine.
Amazingly she isn't choking, the bitter cold has ejected all breath from her body, and her diaphragm stays in spasm! It is a battle, on one side the killing cold of the water and her inability to swim, (as a 'Staffie' with narrow hind quarters, she just hangs down in the water, her barrel chest her only buoyancy, thus she cannot go through water, only up and down), and on the other side, her physical reserves and emotional stamina, which I must support and add to.
At last! I have reached the nearest edge of the bank. But she is still ten foot away from me, across unknown, untrustworthy ice! The edge of the ice is not even joined the the sloping paved reservoir bank! I can see water ~ black killing cold water ~ just waiting, now for me. So malevolent, just waiting for me to get it wrong.
Again Bess tries to get a grip of the ice edge with her front paws. This time the ice does not break under her weight, but she slides off the edge, and under yet again!
How many times will she disappear under the water? Which will be the last? Will I never see those loving, trusting eyes again? What will Tim (my son, to whom this dear dog was a birthday present all those years ago) say or feel? The two strands are running through my head ~ the practical choices in front of me, and the bigger story in which I'm just a tiny actor with an enormous influence.
Astonishingly, yet again she surfaces, kicks violently and gets her elbows and chin resting on the ice edge. And stays! Her body in that bitter, biting black cold, but her head out, in air! Her warm round brown eyes hold mine.
I have encouraged her to do all she could, she has kept on trying. She is not drowning, but equally she will die soon ~ either from the cold whilst holding on to the edge of the ice, or more likely from her grip failing and finally sliding back into that awful, grasping, squeezing black water!
I must move ~ now!.
I step down the bank to the water, with my wooden stave I smash the thin ice at the edge. I step into that space, my boots fill with liquid ice. With my stick I pound farther out. Bess watches my every move ~ trust and understanding written across that loving face. The ice breaks again, and with my stick I feel how the bank slopes below the inky water. Deep, but not a sheer drop ~ that would be death. I step forward, now thigh deep. So utterly cold!
A third time I hammer the ice with my stick. I fear that this is all taking such a long time. That this utter cold will sap Bess's reserves, just hanging there on the ice edge, and that she will yet, still gently slide back into the water, to disappear for ever.
This time the ice holds. Is that good or bad? Bess is still six foot away from me across this ice. What am I to DO? Can I trust this ice? Bess trusts me. If she were human I could lean out with my stick, she would grasp it and I could pull her to safety. Her lead around my waist would work just as well with a human, but she is a dog! She has no hands.
So I must reach her.
I must spread my weight as widely as possible over the ice. That murderous ice, that just waits, daring me. I don't want to do it. That way lies the path to an awful black horrible struggling death!
Bess silently watches my face, as I assess what lies before me. She makes no move to hurry me or sway me. She just looks, and will accept my choice whatever it is, when I make it. I look at her and see her trust, love and acceptance in her eyes. Whatever I do will be right. What a loving gift!
I look at the ice again.
And slowly, I lean out and lie star-shaped over the frozen surface. My wooden stick across under my armpits, my arms wide so that my hands are on the stick at either side, (if the ice breaks the stick may help me find my feet and balance), my legs wide spread too, one foot just hanging over my hole near the bank. As I give my weight to the ice, Bess and I lock eyes. This could be the end of us both, and we both know it, and yet it is also the only way out for both of us.
That frightful cold ice does nothing. It holds! But I still cannot reach Bess! I am going to have to move nearer her thin, treacherous edge. It could break and tip her back into the water. It could break and tip me away from the bank into her ice-hole too, putting me the wrong side of the ice sheet, as unable to climb out, just as she is unable.
Again I am immobile, struggling with my choices. (Were she suddenly swept away in a flood I would accept with anguish; but slowly, before my eyes, apparently not ~ I must continue to act.) And time is flowing on, and the utter unforgiving cold, seeping in through my clothes, is a reminder.
I inch forward. The ice holds. I put out my right hand. It just reaches, but NOT grips Bess's collar. It is not enough! I must go even nearer that Edge.
But no! Bess feels my touch. She makes a heroic scrambling, struggling, flailing wriggle. My fingers close on her collar properly, and I'm pulling her poor cold bare tummy over the vicious sharp edge of the ice.
And she's OUT! On top of me! Over me! Sliding over the ice. Falling into my original foot holes in the ice! Then on, up the bank and into the ordinary safe snowy world!
I just lie on the ice watching her. She tears around, scraping her sides against the wall, against trees ~ scraping the icy water out of her fur. Instinct seem to fill her body with a new adrenaline surge, ensuring that she keeps warm.
Relief surges over me! I slide back over the ice, just believing my luck. Fall into my own original foot holes in the ice in my hurry to leave that uncertain world behind, and finally I scramble up the bank and shakily to my feet. I am wet from my crutch down, with icy water. A thin east wind is blowing, the sun has set and it feels bitterly cold.
I shout to Bess to "Come! Run!", and we run. Back to the gate. My wet gloves instantly freeze to the metal rungs of the gate. It must be very cold!
We trot back down the snowy track, past Cote Lodge Farm with its peacocks and curious piglets. Bess is so recovered, that she stops for some socialising with the piglets through the fence! I feel this is excessive, and gallop on towards home.
Ten minutes jogging sees us to our front door, and I find that Bess has ice along her back and icicles from her whiskers, whilst my trousers are frozen stiff with ice, anywhere that does not actually touch my skin. Inside I run a hot bath for Bess, leave a heap of wet icy clothes on the stone kitchen floor, then bath Bess. For once, she neither tries to escape nor groans and shudders with her dislike of water, but accepts its soothing warmth. Even more she clearly appreciates the radiator-warmed towel. She bounds off round the house, baths always send her potty!
Bess done, it is at last my turn. I sink into a lovely cradling hot water, so very much the opposite of all I feared and faced! I was most wonderfully lucky, and I believe, given my choices that afternoon, I used my wits to tip the scales as far as possible to my advantage.
Why did Bess go out on the ice?
One of those black stones 'lobbed' out onto the ice was not a stone. As we galloped for the gate, I saw that the stone nearest to Bess was actually a dead black and white goose, (only the black bits showed up), frozen into the ice!
Goose is even better than duck, in someone's book!
That night Manchester recorded the coldest temperature in Britain -17oC.
Four days later I am alive to celebrate my 61th birthday!
---
Monday, May 18th, 2009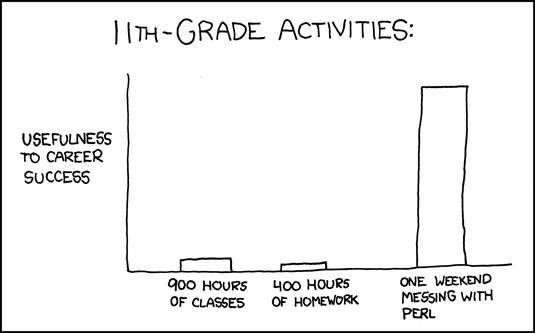 This XKCD cartoon strangely captures essence of most of my complaints with the way ICT and technical subjects are taught in schools.
For me, it was a extensive number of weekends trying to make various different project work and multiple evenings getting to know the right people in the tech industry – thanks to the vibrant north west technical communities.
Don't get me wrong, I'm not suggesting that school/college/university is completely useless if you want to go into tech – being able to articulate oneself in writing is a particularly crucial skill which is a lot tougher learning elsewhere but as far as I'm concerned any technical skills taught are unlikely to ultimately be be as useful as that one bit of hacking you did when you were bored a few years previously.
Sunday, May 10th, 2009
The Background
People who know me well will know I'm not a big football fan, I don't have a team whom I follow and I don't really take sides when people talk about football. Just because I don't follow the premiership or really care who wins it I do take the occasional interest.
So when England play in some big competition I'll go down to the pub with my brother and watch them play, when Manchester United got to the final of the Champions League, I went to watch them play on the grounds that they were a (fairly) local team and had done pretty well for united to get to that point.
So when I heard that Glossop's very own Glossop North End was at the top of it's league, playing at Wembley Stadium in the FA Vase Final having made it through all the knock out rounds, I wondered about going to see them play. Finding out I was already in the area for a family celebration finalised it and so today, my brother and I made our way through London to Wembley Stadium to watch Glossop North End play Whitley Bay.
The Build Up
For a fairly small town, the people of Glossop had embraced the fact their team was in the final stages of their league in a multitude of ways; pubs with banners outside; cars with flags on them and souvenir shops springing up in the market.
I was completely unprepared, however, for the sheer numbers of supporters when I reached Wembley; it felt like every organisation, business and club in Glossop had made their way to Wembley to see their local team play. It was amazing I had never ever seen so many people (and people I know!) from my town in one place at once…not even in Glossop. The turnout was tremendous!
Much to their credit, all these football minded people hand turned up on the day of the local derby – the two local premiership sides Manchester United and Manchester City were playing each other with the end of the derby overlapping the first half of the final.
Before the match, at the Green Man Inn, not far from Wembley Stadium, I was witness to an amazing sight. Supporters of both teams, wearing commemorative Glossop North End shirts, singing abusive songs at each other, from time to time breaking into "Wembley, Wembley, Wembley" and "Come on Glossop" and other chants recognising the common ground that had brought them together, a hundred and eighty miles away from their homes…
This is the first time I've ever seen Glossop North End play, as well as being the first time I've ever been to Wembley.
For those who have never been there, it's an impressive place. Though the current stadium is not the one etched in peoples minds, history oozes from the place… perhaps history waiting to happen.
The Match
When I walked down the steps to our seat, in the massive bowl, the hairs on my arms pricked up. As the match started we could see it was going to be a close thing. The 17 year old Glossop Goalie seemed in good form, the strikers on both sides making use of frequent opportunities at shooting but failing to convert them into goals.
Eventually, about two thirds of the way through the first half, due to a defending blunder, the Whitley Bay right forward managed to slip one into the Glossop net.
As Glossop battled forward towards the end of the first half, they made a great pass at the Whitley Bay end, which they failed to convert into a goal. As it was brought back out, it became clear Whitley Bay had a chance….one that was converted into their second goal. Shortly afterwards, the whistle was blown for half time.
In the second half, Glossop battled again and again to try and put one home, with whole heated support from the supporters and despite several good shots, sadly, these didn't convert into goals and the final score was Glossop nil, Whitley Bay two.
The Aftermath
The Glossop supporters cheered their team on and on until the end, clapping both teams and staying long after the final whistle to sing to Glossop North End "we love love you" and to clap the Whitley Bay team.
How the match will be remembered in Glossop remains to be seen.
Will it be completely ignored with people taking less notice of Glossop North End?
Will the achievement be remembered for it's amazing effect of brining people together?
Only time will tell but I for one hope it is remembered as "the year before we won the vase".
---
© 2009 Tim Dobson
You may modify and redistribute this blog post under the terms of the Creative Commons Attribution 2.5:England and Wales Licence.
---
Photos
Sadly, I didn't have my point and click camera with me.
However, here are some links to some photos of the match:
http://www.zimbio.com/pictures/3GjAmLj0XNn/Glossop+North+End+v+Whitley+Bay+FA+Vase+Final
http://www.flickr.com/photos/mcqweb/sets/72157617417465757/
If you know the location of other photos please leave a comment with a link or if you have taken some photos yourself, why not upload them to Flickr?
Sunday, April 26th, 2009
What could be more typically British than having a dog?
Even the Romans exported our hunting dogs to the rest of the empire, in the early years of the first century. You know every school boy's favourite song about "One Man and his Dog" going to mow a meadow? It's not one man and his kangaroo going to mow a meadow, is it?
Dogs are an inseparable part of Britain's heritage. Having been used in the farming of sheep and cows, they have more recently been used to catch rodents and scavengers, find missing persons and lastly, of course as pets.
Our family has never had a dog. Neither of my parents grew up with dogs, and as a result,knew nothing about them. That's not to say they were scared of them; they weren't, but they attributed the bad press sometimes given to dogs by the media to every single dog they met.
When I was in Year Six, the last year of primary school, my birthday came, as usual in October and my parents hit a brick wall. Well, to be fair it was a metaphorical brick wall, but it was a brick wall all the same. They had hit reality; I was growing up, and had politely asked them if they could get me a Playstation for my Birthday. They were reluctant. As they were physically active, healthy eating parents, they decided that a Playstation was not necessarily something which they should place in the grateful hands of their eleven year old son.
To my complete and utter shock, though not totally to my horror, they began to research the possibility of getting a dog. Presumably the root of this decision, was a delayed reaction to my request the previous year, "could I have a dog – a Border Collie,"
This was the result of coming in close contact with several friendly, fun dogs.
When I had first heard overheard my parents discussing this issue, I was stunned, to such a point that I must have gone to school the next day in a semi-conscious daze. My mind was a whir, not quite registering anything I heard or saw, I was so preoccupied with the surprising state of affairs.
Bess looking on as my sister's kitten/cat prowls around…
Then they told me. Yes, I was to get a dog for my birthday, and yes, that wasn't for another week but they'd singled out a litter and did I want to go with them and choose which puppy I wasgoing to have. Tonight! I agreed in an instant…
The moment I arrived I knew I had made the right choice; a puppy was definitely as good as a Playstation, if not better! The puppies were about four weeks old and were more enchanting than anything I had ever laid my eyes upon before. After some deliberation, watching the loose skinned, little animals eating and wobbling round me, I chose my puppy. The one I picked was a brindled (a sort of brown-black) bitch, she had various white patches on her chest, toes and small belly.
It was when we brought her home a week later, that I fully appreciated how minute she was. She was so tiny that I could almost put my hand right the way round her fat little belly, she found my lap the equivalent of a sofa, with plenty of room to lay her limbs out in any direction. But I will skip the some of the details of taking a frightened, five week old, homesick puppy into our house and move on.
My dog, Bess has helped me learn more things about life, than all my schooling put together.
She has taught me many useful (and sometimes essential) skills, usually the hard way. For instance, one example which sticks in my head most distinctly is how she helped me cope with sleep deprivation, and still live on. In her early few weeks, she was desperately homesick, sometimes whimpering and shivering from the foot of my bed. Such to the point that eventually I was so tired, I slept despite this constant distraction; as a result I can now sleep through anything, short of a bomb, with a little more reaction than just rolling over.
At this point I should point out that our dog is a Staffordshire Bull Terrier or to those who are not familiar with dog breeds, the typical "bulldog". Whatever connotations you have of this type of dog, almost certainly do not apply to Bess. The tabloid press, and to a less extent, the broadsheets, do their best to paint the image of Staffordshire Bull Terriers (affectionately known as "Staffies") as child-eating, baby maiming, postman chasing dogs. This is not the dog I know, nor any I have ever met. Bess is quite the opposite, in contrast to being a lonely, human hating creature, she is one of the most socially adjusted beings (let alone dogs) I have ever met.
When my (half) sister announced that she was going to have a baby, there was some questioning of how Bess might react; might she turn against it with hostility, if we gave more of our attention to the baby than her? In the event, this was not exactly the case, instead of mistaking the baby's arm for a chew, she took the child under her "arm" as if it was not only part of the family, but a child of her own. As Max grew older, Bess adapted games which he had seen me play with her, and made them more gentle so that she could play games with him; tug o' war for instance, she changed so that she didn't pull him off his feet.
A short video of Bess and Suki playing
In Bess's regular dog food, a sort of muesli with added meat, there is one little bit which she has always steadfastly refused to eat. One day, Max was feeding her individual pieces of it, one by one, which she was dutifully eating. Max tried to feed her the one bit of the food which she could not stand; instead of bluntly refusing, politely she took it in her mouth, trotted into a another room, and once out of Max's sight, carefully deposited it on the carpet, before trotting back for some more.This obviously gives evidence of how Bess, did not want to seem rude, or give bad impressions about not eating food when it is given to you; a crucial lesson at the time for my nephew.
When my sister announced that she was having another baby, we were not concerned, indeed, Mattie adores the ever tolerant Bess, unwaveringly. Even the arrival of a mischievous kitten who did everything to wind Bess up; she did not lose her cool, even going as far to play gentle chasing games with the kitten, much to everybody's astonishment and delight.
With my sister now expecting twins, we have no concerns about Bess; She continues to take a central role in our family, though one which is strangely different from the one she played six years ago, as we brought home that shivering, homesick puppy.
She is now a steady, loyal, tolerant companion, who can help no matter what the task or the challenges.
We could all learn something from her.
---
Written in 2007 for a piece of GCSE English Language coursework.